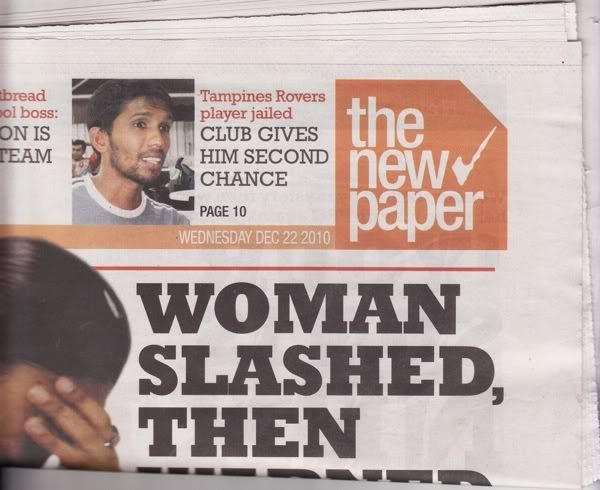 TNP have make a major blooper as they put the photo of Noor Ali (And on front page somemore) in place of Aliff Shaffein.
I am not surprise as despite recent efforts by the paper (after all these years where I see them only when the Lions are winning) I am still not convinced if the paper had the reporters to report on local football or even local sports in general.
This is not an attack on the paper but after all those years and an incident back in 04, when I saw how even a, former, senior reporter of SPH do not even recognised Ismail Fitrey - the top scorer of Sembawang Rangers and Tampines Rovers - I wonder at times if they are the blind leading the blind.
After all, there will be people who will say they do not know who Ismail Fitrey is and that is why the paper is there for.
The English Premier League have so many 'coaches' thanks to the many reports and views on them and some can even named the top reporters/writers as they possessed good knowledge on even the secondary issues.
Yet the top reporters for our local papers (As I mentioned before) can only be named for their Singaporepools predication and the fact today we see SPH papers like Straits Times and TNP virtually 'outsourcing' their commentary/editorial writeup to overseas writers like Rob Hughes etc have left one wondering where the local reporters/writers are.
For extensive coverage of local sports, we do need reporters/writers on the ground for the commentary/editorial writeup and no matter how good Rob Hughes is, he cannot cover local sports on his commentary/editorial writeup as he does not know who Aliff or Noor is.